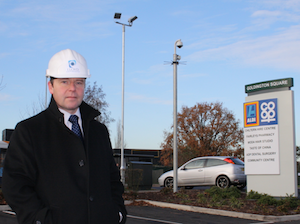 We formed Lloyd Asset Protection to provide a solution for the Commercial Property Surveyor and Facilities Manager who is faced with an endless list of jobs, of which site security is just one.
Not only do we offer the experience of years of working with property market in the provision of electronic security, but we have also created a network of technical expertise to allow you the client the benefit of not having to keep up to date with technology yourself, but tap into the resources as and when you need them. This resource really is second to none.
We offer initial advice over the phone through to site visits. engineers investigation and tenant meeting support to enable you to focus on your main responsibilities, knowing that the site protection will be provided.
The personnel expertise provided covers every aspect of the industry including equipment manufacturers and distributors for :-
CCTV cameras
CCTV systems
Activity Detectors
Access Control Systems
Electronic Gates and Barriers
Rising bollards
IP Technology
We also specialise in lease advice, industry accreditation support and much more.
Working alongside you, we aim to provide expertise and the relevant information assist you in making an informed decision on how to proceed either with a new installation or the correction of an existing one.
The support we provide maximises your value for money and will fit within your budgets. We have been able to not only save clients from spending where they didn't need to, but also have enabled changes that ensured the correct solution has been provided.