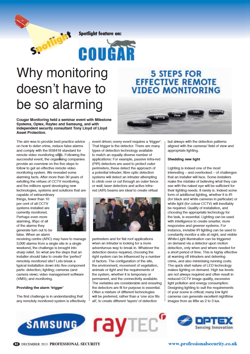 Alarm Investigation Monitoring
"Lloyd Asset Protection are committed to improving the levels of service provided by remote monitoring stations and have partnered Cougar Monitoring Station to provide "Alarm Investigation Monitoring". This ensures remote sites are fully investigated when detection devices are triggered. A recent open day saw Insurers and CCTV Installers attend in good numbers to hear from the ourselves and manufacturers about the good practices encouraged and specified."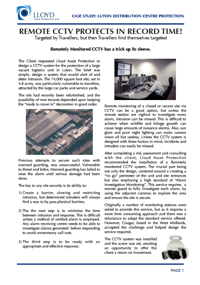 Remote CCTV protects in record time!
The Client requested Lloyd Asset Protection to design a CCTV system for the protection of a large vacant logistics unit in Luton. The brief was simple, design a system that would alert of and deter intrusion. The 74,000 square foot site, set in 4.8 acres, was particularly vulnerable to travellers, attracted by the large car parks and service yards.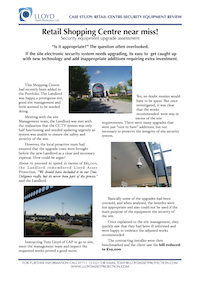 Retail shopping centre near miss!
When upgrading a shopping centre CCTV system, it is easy to get carried away with additional investment, which may be inappropriate or even unable to function in the environment it is to be located. This case study demonstrates the vale of an independent expert opinion.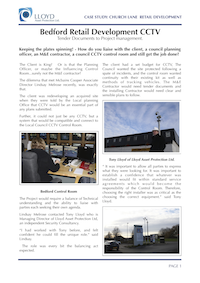 Church Lane Retail Development CCTV and the dangers of ignoring advice
The Church Lane CCTV Project not only demonstrates how important it is to have good Tender Documents prepared, but also what can go wrong when Installing Contractors don't follow the guidelines, and further what can go right when a consultant liaises with all parties. The installation involved designing a system compatible with the local control room who would be influencing the decision for planning permission but liaising with all parties so that the budget would not be exceeded.
Cement Works Case Study
At the Cement Works the site had been left with large areas that were no longer used but still had buildings and equipment to secure. Once vacant, many of the buildings became the target of copper and other cable theft. With such large open perimeters, many unfenced, there were difficulties in the logistics of securing and protecting the vulnerabilities.